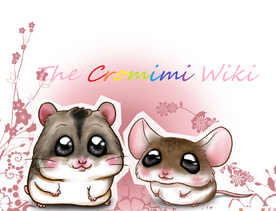 Welcome to the Cromimi Wiki! Edit


Cromimi is a virtual pet simulation game in which you can adopt, train, dress up, and even breed mice, hamsters, and even ferrets! Originally created in France by the BeeMoov company, Cromimi has since opened up seven additional versions of the game, each translated from the French original: us.cromimi.com (American/English), br.cromimi.com (Brazilian), www.cromimi.de (Germanic), www.cromimi.es (Spanish), it.cromimi.com (Italian), pl.cromimi.com (Polish), www.cromimi.ru! The original (www.cromimi.com) is in French.
There are even individual Cromimi pages on Facebook for each respective country and will occasionally make posts regarding any site downtime, although this is primarily done on the French page and not necessarily translated into its international counterparts. This can cause some confusion, but all Cromimi domains are so infrequently down that this is of little concern!
Please note: This Wiki page is dedicated to the American/English version of the website (us.cromimi.com )!
You may want to check out..
Edit
Last user activity on this wiki
Edit